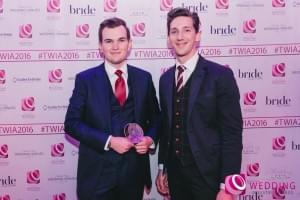 Double Awards Winners… SO proud!!
24 October 2015
Busy week for The Groom's Room at Abigail's Collection as on Monday 16th November we headed to Cambridgeshire for the 'The Wedding Industry Awards 2016'… We are so proud and thrilled to have become double awards winners 'Best Menswear Retailer of the Year' and 'Bridal Retailer of the Year' for The East of England. The Groom's Room is extremely passionate about delivering an 'experience' to our customers and we do genuinely strive to be the best that we can be.  To receive these particular awards is an amazing achievement to us because it is voted by our amazing customers.
Our Grooms voted in their hundreds and we couldn't be more grateful! A HUGE heartfelt thank you to all of you. The whole process has been extremely exciting, rewarding and altogether an absolutely incredible evening! We are over the moon to become double award winners it means so much to all of the team and we couldn't be happier.