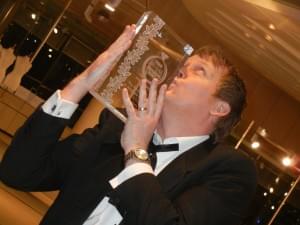 Buzzing at the Groom's Room
29 April 2013
It's been a fantastic 6 weeks, you may know that we won a mahussive award recently … Menswear Retailer of the Year at the 2013 British Bridal Exhibition in March. This is THE national title to win and we are chuffed to bits! The Wife's blogged about it, she's a bit more wordy than I am so read all about that and the Girl's buying trip on the Abigail's Collection blog … For your entertainment here's a cheeky image of me celebrating with the award. It was a totally fantastic night and fun was had by all although my head didn't really appreciate it the next day!
So we've been buzzing and busier than ever in The Groom's Room! Tom and I have had the pleasure of meeting so many fantastic Guys lately – Just recently I've been looking after a Groom called Mark who's getting married in Vegas. Last week Mark the Groom, the Father of the Bride and his two Ushers collected four extremely sharp midnight blue tuxedo's and I was given two lovely bottles of wine and a box of chocolates for my efforts, evidence that I must be doing something right, lol! They were pleased as punch and, thank you so much, so was I! Even if I do say so myself they looked totally awesome and it was an absolute pleasure looking after them.
Once again we're looking forward to a busy summer season … Our new slimfit three piece stretton suit is going down a storm with our Grooms who want an on trend fitted look that doesn't brake the bank. Colours proving popular with Grooms and Brides planning this month is yellow and blue. Nice, very nice…. Abi exhibited at Woodhall Manor at the weekend and spoke to several Grooms who are yet to arrange menswear for this year, at one point I understand that she was discussing made to measure shirts but managed to leave the 'r' out of shirts. Hmmm, not so sure about that Abi but thank you for trying to talk Gents stuff, maybe stick to dresses in future Darling!
Don't forget we offer our Grooms a made to measure, ready to wear and a hire suit service and some parties combine these options depending on preference. Either way, we're here to help just get in touch… Book in to pop and see us, we'll make sure there's a beer at the ready. I'm confident you'll love the suits our service and the price!
Oh, one more thing – Spring Suit hire has been busy, the week before last every one of our tailcoat options was out, we've got 7 colours…. One of the many on hire was returned with a pair of ladies knickers in the pocket!?!? We haven't bothered calling but if the lady owner would like them back, just give us a call…. No explanation required… Enough of my cheek, gossip and scandal … Am off to catch up with Britain's Got Talent, one of my guilty pleasures … Did you see that Guy with the samurai sword? Blimey now that's a party trick n' a half!?!?